Illegal El Salvador migrant gang members with a Satanic shrine in their apartment 'kidnapped, drugged and raped a 14-year-old Houston girl and murdered another to appease insulted demon'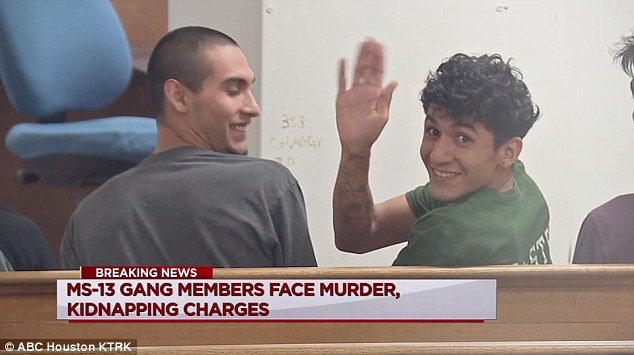 Two illegal immigrant gang members from El Salvador who had a Satanic shrine in their Houston apartment are suspects in the killing of one teenager and the kidnapping of another, authorities said.
Gang leader Miguel Angel Alvarez-Flores, 22, who also goes by 'Diabolico,' and 18-year-old Diego Alexan Hernandez-Rivera appeared in Houston court Wednesday on charges of aggravated kidnapping and murder.
The MS-13 gang members laughed, smiled and waved in court.
Prosecutors said the two kidnapped a 14-year-old girl after she left school around February 2, holding her in an apartment where she was raped by a gang member.