IN GEORGIA, JON OSSOFF TRIES TO VANQUISH SEVENTEEN CANDIDATES AT ONCE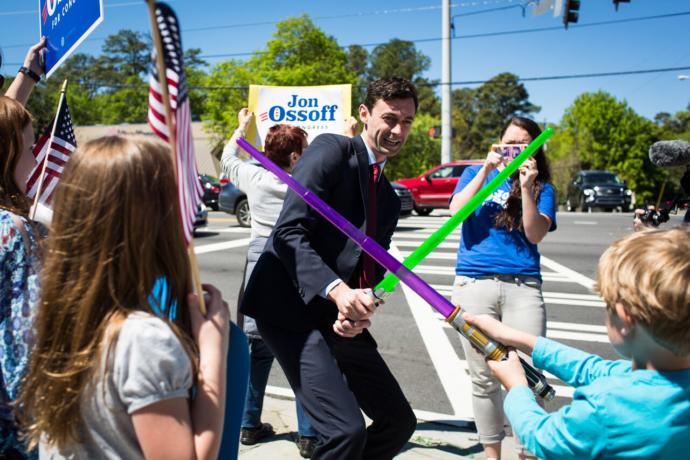 Two weeks before a special election for Georgia's Sixth Congressional District seat, which takes place this Tuesday, the thirty-year-old Democratic candidate Jon Ossoff stood on a busy North Atlanta street corner brandishing a lightsaber. His combatant was a giggling eight-year-old boy who didn't grasp the broader sabering context: soon after Ossoff declared his candidacy to replace Trump's Secretary of Health and Human Services, Tom Price, in January, an odd attack ad appeared, showing Ossoff, in his Georgetown days, dressed as Han Solo from "Star Wars," for a spoof film made by Ossoff's college a-cappella group. Paid for by the Congressional Leadership Fund, the ad was presumably meant to portray Ossoff, who most recently worked as a documentary filmmaker exposing judicial corruption and wartime atrocities, as young, unserious, and . . . a leader in the alliance to restore the Republic? Somehow, the ad did little to dissuade voters from considering the political novice: in the weeks since, he has risen to the head of an eighteen-candidate pack, garnering forty-five per cent of the vote in a poll released this past Friday.
As Ossoff and his eight-year-old foe performed their roadside lightsaber act, dozens of supporters raised handwritten signs, many of which read, "vote your ossoff!" Cars honked approval as they passed. A line cook from a nearby Waffle House appeared, in his apron, offering "free waffles to Ossoff voters!" (It was unclear whether the offer had his bosses' approval, but the cook's support was noted.) At one point, Ossoff's chief Republican rival, Karen Handel, a former Secretary of State in Georgia who has also run, unsuccessfully, for the Republican nominations for governor and senator, drove by and stopped for a red light. A volunteer for Ossoff, not recognizing her, asked for her support. "I'll be voting for myself," Handel reportedly said.
Handel has the lead among the Republicans in the race, at between seventeen and twenty-one per cent, according to the latest polls. On Tuesday, Democrats, Republicans, and independents will all appear on one ballot. Unless one candidate captures a full fifty per cent of the vote, there will be a runoff between the top two finishers, on June 20th. Ossoff's overall polling lead is formidable, but it also reflects a crowded conservative field that features pro-Trump Republicans, establishment Republicans, at least one vocally anti-Trump Republican, and a John Wayne-quoting Muslim Republican named Mohammad Ali Bhuiyan. Their résumés are just as varied: at a nonpartisan candidate forum and luncheon in late March, Handel and Ossoff were joined onstage by a former flight attendant, a Georgia State University Italian professor, a cardiologist, the Trump campaign's "diversity chief," and twelve others. Ossoff sat in the middle, looking not unlike a diligent schoolboy surrounded by disgruntled principals.
"If I had to put money on it, I'd say Ossoff is headed for a runoff against Karen Handel," Jim Galloway, a longtime political columnist for the Atlanta Journal-Constitution, told me. She would be poised to become the first female Republican member of Congress from Georgia. "Ossoff is going to look for the support of college-educated women and independents," Galloway said. "And they're not going to be turned off by Handel." Galloway said that he would be "mildly surprised" if Ossoff won outright on Tuesday.