Jeb Bush Heaps More Praise On Barack Obama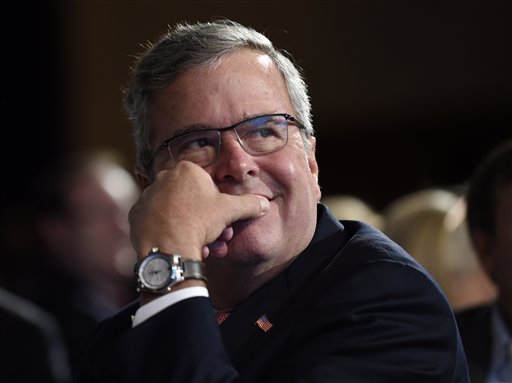 Republican presidential hopeful Jeb Bush supports President Obama's trade deal, praises his management of the National Security Agency and agrees that Congress should have moved faster to hold a vote on new attorney general Loretta Lynch.
And that's all since last week.
It's an unusual approach for Bush to take in seeking the nomination of a conservative party that mostly loathes the current president. The former Florida governor has gone out of his way at times to chime in on issues where he agrees with Obama — bolstering his attempt to be a softer-toned kind of Republican focused on winning a majority of the vote in a general election.
But the strategy also carries grave risks for a likely candidate who is already viewed with deep suspicion by conservatives, many of whom have little desire to find common ground with Democrats. Tea party leaders are already warning that Bush, the son and brother of former presidents, is alienating conservatives…