Missouri state senator sits during Pledge of Allegiance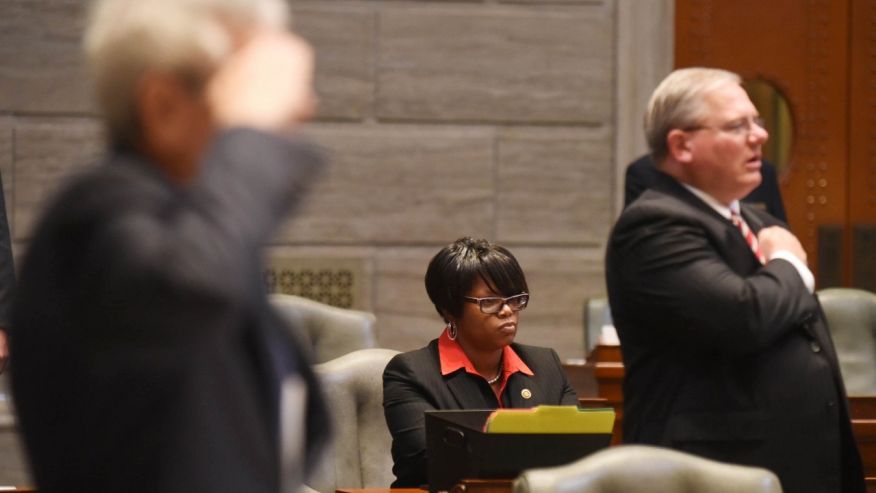 Colin Kaepernick's National Anthem protest has started a ripple effect across the sports spectrum, reaching other NFL players, soccer stars and even high school student athletes. On Wednesday, his protest trickled into the Missouri Legislature.
State Sen. Jamilah Nasheed, a St. Louis Democrat, refused to stand while her colleagues recited the Pledge of Allegiance in the state Capitol. She said her silent protest on the Senate floor was intended to show solidarity with the San Francisco 49ers quarterback.
Kaepernick has kneeled for the National Anthem in protest of police brutality and what he has described as social injustice against minorities in the U.S. Nasheed, who is black, said she wants to call attention to those issues and isn't "anti-America." Nasheed's protest was met with silence in the chamber.
Lt. Gov. Peter Kinder, a former GOP candidate for governor who presided over the Senate Wednesday, released a statement calling Nasheed's protest an "occasion for great sorrow." He said he worried about "the example she is setting, particularly for our young people."
U.S. soccer star Megan Rapinoe, who already drew controversy for kneeling during the National Anthem before a club match, knelt again before the U.S. match against Thailand Thursday.