Obama and Charlie Crist hug again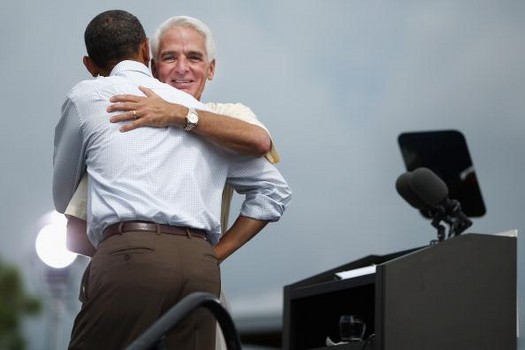 By REID J. EPSTEIN | Politico.com
SEMINOLE, Fla. – Saturday morning brought another hug for President Obama and Charlie Crist.
Florida's former GOP governor, chased from the party during the 2010 Senate primary by photos of him embracing the president during Obama's 2009 stimulus tour, is now an independent and spoke for Obama Thursday at the Democratic National Convention.
Here, Crist – now an independent but spoken of widely as a Democratic candidate for the 2014 governor's race — delivered another endorsement of the president, telling 11,000 people at the local St. Petersburg College campus that "it takes a cool head to win a hot game."
As Obama joined Crist on the stage, the two men embraced each other in a full man hug, wrapping themselves in each other's arms.
"I want to thank Charlie Crist for his introduction, for his support, for showing that the values that we're fighting for are not Democratic value or Republican values, they are American values," Obama said. "That's what we're fighting for."
The president then delivered a speech virtually identical to ones he gave Friday in New Hampshire and Iowa, which were derivative of his Thursday night nomination acceptance speech in Charlotte, N.C.
To read more, visit: Â http://www.politico.com/politico44/2012/09/obama-and-charlie-crist-hug-again-134921.html