Ocasio-Cortez slams military spending: We must 'reprioritize what we want to accomplish as a nation'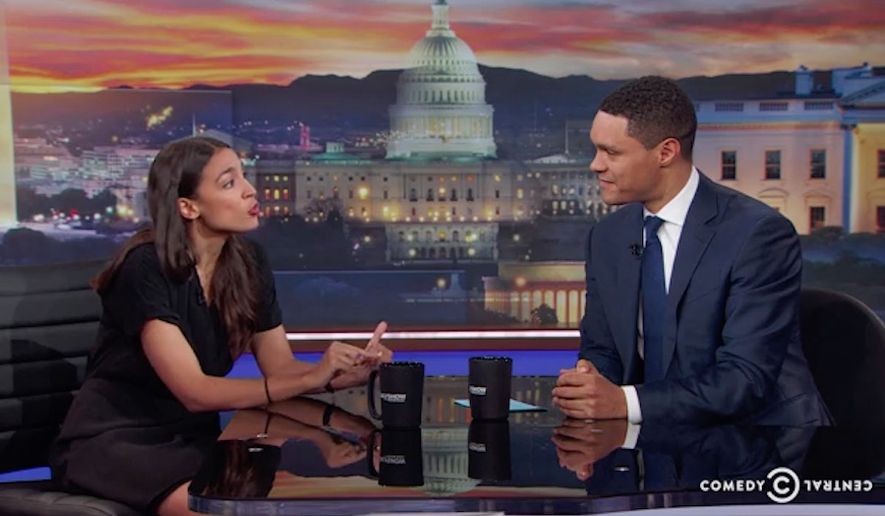 New York congressional candidate and self-described democratic socialist Alexandria Ocasio-Cortez explained on "The Daily Show" Wednesday night how she plans to pay for some of her platform policies such as free health insurance and education for all.
Ms. Ocasio-Cortez, who took the Democratic Party by storm earlier this month after her upset primary victory against entrenched incumbent Rep. Joseph Crowley, told Comedy Central's Trevor Noah that federal spending could stand to be cut in areas like the military, and wealthy Americans and corporations should start paying their "fair share" in taxes.
"If people pay their fair share, if corporations and the ultra-wealthy — for example, as Warren Buffett likes to say, if he paid as much as his secretary paid, 15 percent — if he paid a 15 percent tax rate; if corporations paid — if we reverse the tax bill, but raised our corporate tax rate to 28 percent, which is not even as high as it was before, if we do those two things and also close some of those loopholes, that's $2 trillion right there," the 28-year-old said. "That's $2 trillion in 10 years."
"Now, if we implement a carbon tax on top of that so that we can transition and financially incentivize people away from fossil fuels, if we implement a carbon tax, that's an additional amount of a large amount of revenue that we can have," she continued.