Patrick Leahy now third in line to presidency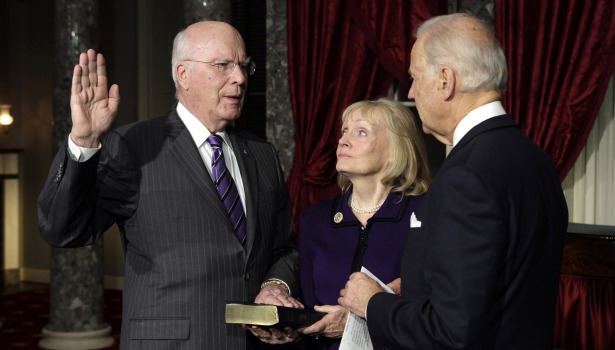 Sen. Patrick Leahy (D-Vt.) was sworn in as president pro tempore of the Senate on Tuesday, putting the veteran senator third in line of succession to the presidency.
As a few dozen senators watched in the chamber, Vice President Joe Biden administered the oath to Leahy, who became the current longest-serving senator following the death of Sen. Daniel Inouye (D-Hawaii) on Monday afternoon.
With his right hand raised, Leahy – accompanied by Senate Majority Leader Harry Reid (D-Nev.) and fellow Vermont Sen. Bernie Sanders – replied to Biden: "I do, so help me God."
"Kind of a bittersweet moment," Biden remarked as senators applauded Leahy, who has served in the Senate since 1975. The senior Vermont senator then walked around the chamber, getting congratulatory handshakes from colleagues. Sen. Tom Carper (D-Del.) gave Leahy a hug.
Shortly before he was sworn in as president pro tempore, Leahy delivered an emotional tribute to Inouye, calling him a mentor and friend who was one of the "greatest members of this body ever to have served."
Leahy said he wasn't able to speak about Inouye's death on Monday evening because he was overcome with emotion as he looked at his desk in the Senate chamber, which Inouye once occupied. The Hawaii senator's name was inscribed on it.