Rand Paul Stumps At Black Universities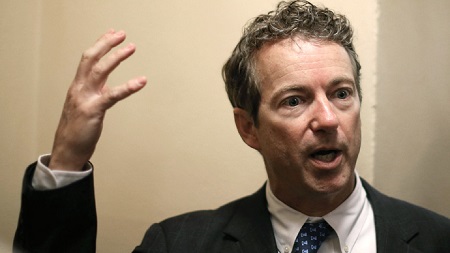 Senator Rand Paul laid out his vision on Friday for a legal system that makes it easier for people with criminal records to get jobs and to vote, telling students at a historically black college here that he believes there are still "two Americas" as the Rev. Dr. Martin Luther King Jr. said almost a half century ago.
Mindful of his audience and, no doubt, his appearance two years ago at Howard University when the mostly black audience was often skeptical of what he had to say, Mr. Paul, a Republican and a likely candidate for president, chose his words more carefully this time during his visit to Bowie State University.
He was generous when speaking about President Obama, a man for whom he usually has few flattering things to say. He said he would not question whether the president was "a good man."
Mr. Paul tried to avoid appearing presumptuous and at one point corrected himself when answering a question about the progress that black Americans have made. "I think sometimes we think we haven't gone very far when I think we've come a long way,"" he said, pausing to tweak his wording. "And I say 'we' collectively; obviously it's not me."