TED CRUZ DRAWS HUGE CROWD AT IOWA RALLY FOR RELIGIOUS LIBERTY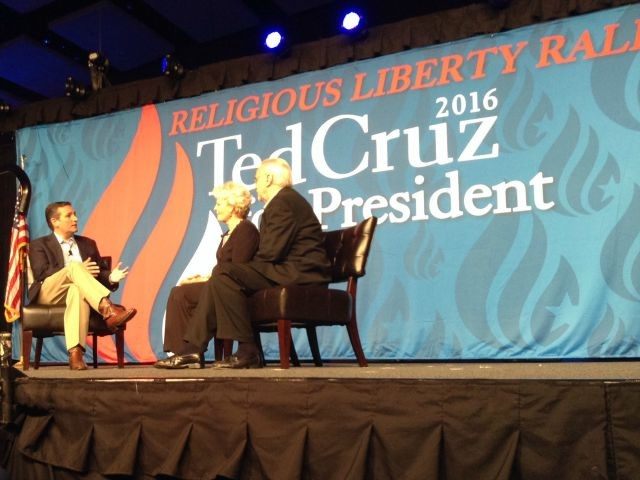 DES MOINES, Iowa – GOP presidential contender Sen. Ted Cruz (R-TX) closed out a memorable day in Iowa with a massive rally for religious liberty in downtown Des Moines Friday evening. The overflow crowd of 3,000 Cruz supporters gathered to hear the conservative torch bearer draw attention to the persecution of Christian business owners.
It was a theme he had addressed earlier in the day at the Iowa State Fair, first during his 20 minutes on the Des Moines Register soapbox, and later in an attempted media ambush by actress Ellen Page in which the junior Senator from Texas schooled the actress on the finer points of public debating.
The enthusiastic crowd heard Cruz passionately defend the rights of Christian business owners. He was joined on stage by Dick and Betty Odgaard, owners of a wedding chapel business in Grimes, Iowa that was forced to close due to the legal and financial repercussions of their decision not to make their chapel available for a gay wedding.