US Justice Dept. looking into long voting lines during Arizona's primary election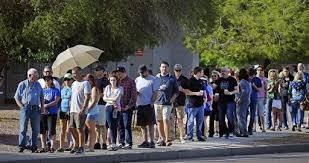 PHOENIX – The U.S. Justice Department is inquiring about long lines and other problems seen during Arizona's presidential primary to evaluate whether the largest county in the state complied with voting rights laws.
Maricopa County records show that five polling places in metro Phoenix still had voters in line after midnight, including one location where the final ballot was cast at nearly 1 a.m.
The Maricopa County Recorder's Office on Monday released a letter it received from federal law enforcement officials.
Justice Department Voting Section asked for information on 10 specific items including a description of how county election officials determined how many polling places were needed on March 22 and whether potential impacts on