Vandals smash nativity scenes, abduct baby Jesus in PA, TN, NH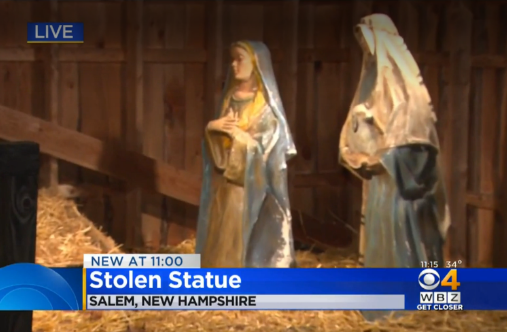 Vandals are targeting nativity scenes across the country, most recently with thrashed figurines in Pennsylvania and reports of baby Jesus abductions in Tennessee and New Hampshire.
Rolland Price Jr., secretary for The Church of the Holy Apostles in Saint Clair, Pennsylvania, told the Republican Herald it appeared someone attempted to get into the church last Thursday night and decided to kick over a nativity scene in the front yard when they found the door locked.
Baker spent three days installing the nativity scene and Christmas light display just days before someone smashed the ceramic Joseph to smithereens, snapped off angel wings and stomped a hole in a defenseless lamb figurine.
"I think when they tried to gain access to the church, they became frustrated and then took it out on the figurines," Price said. "If they fell, they wouldn't break like that. They were kicked."