We Will Not Obey: Christian Leaders Vow Civil Disobedience Over 'Same-Sex Marriage'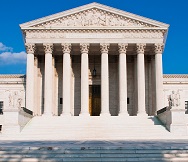 "We will not obey." That's the blunt warning a group of prominent religious leaders is sending to the Supreme Court of the United States as they consider same-sex marriage.
"We respectfully warn the Supreme Court not to cross that line," read a document titled, Pledge in Solidarity to Defend Marriage. "We stand united together in defense of marriage. Make no mistake about our resolve."
"While there are many things we can endure, redefining marriage is so fundamental to the natural order and the common good that this is the line we must draw and one we cannot and will not cross," the pledge states.
The signees are a who's who of religious leaders including…