What can we expect at NRA Atlanta 2017?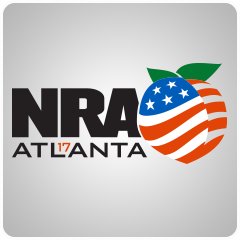 It's that time of year again!
NRA Atlanta 2017 is just around the corner and it is promising to be one heck of an event! The massive gathering of Second Amendment advocates will be taking place APRIL 27-30 in Atlanta, Georgia.
A common question I hear about NRA conventions is, "Are firearms allowed at an NRA event?"
The answer is usually yes. To cite the NRA's website directly in regard to next week's events in Atlanta, "During the 2017 NRA Annual Meetings & Exhibits, lawfully carried firearms will be permitted in the Georgia World Congress Center and the Omni Atlanta Hotel at CNN Center in accordance with Georgia law.  However, firearms are not allowed in the remainder of the CNN Center, including the food court and shops.  When carrying your firearm, remember to follow all federal, state and local laws."
Now that that's covered, let us move on. Guest speakers, great food, multiple vendors showing off their newest gadgets, tech, accessories and of course, Firearms. Lots and lots of firearms. I truly wish I was attending, it promises to be a massive event with loads to see.