Yankee fury: The 'New Hampshire Rebellion' – a 250-mile walk to protest big money in politics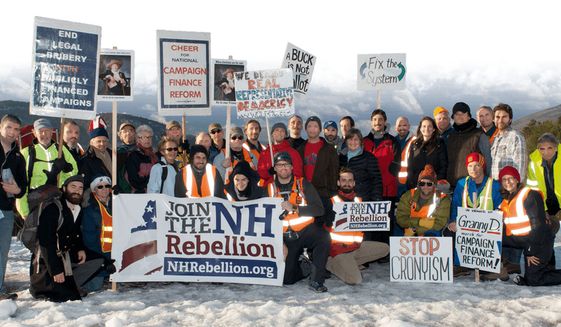 The New Hampshire Rebellion, a nonpartisan grass-roots group that has declared that the Granite State is "no longer for sale" to presidential candidates, has made good on its promise to walk over 250 miles from the four corners of the state, to eventually converge on the State House in Concord for a big rally by Wednesday. Despite freezing temperatures and challenging weather, the intrepid group is receiving a warm welcome as the thermometer lingers at 15 degrees.
"After six days and nearly a hundred miles, the New Hampshire Rebellion walkers are only growing in numbers and resolve. Walking through Conway today it seemed like every car that passed was waving, honking, or giving us a thumbs-up – and having that kind of support in the community is such a boost to us walkers," spokeswoman Xanni Brown tells The Washington Times.
"We know that 96 percent of Americans think that money in politics is a problem. We see them in every corner of the state, and it's an incredible honor to be representing our fellow citizens, following in the footsteps of heroes like Granny D, and calling attention to the corrupting influence of money in politics," she adds.