Yikes… 92,898,000 Americans Not Working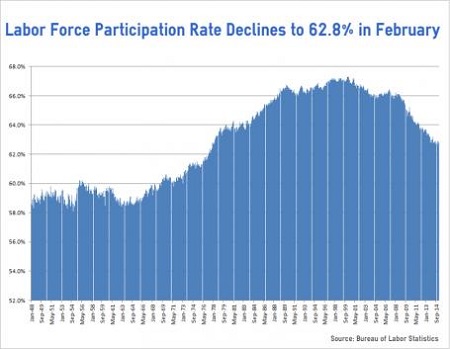 The labor force participation rate hovered between 62.9 percent and 62.7 percent in the eleven months from April 2014 through February, and has been 62.9 percent or lower in 13 of the 17 months since October 2013.
Prior to that, the last time the rate was below 63 percent was 37 years ago, in March 1978 when it was 62.8 percent, the same rate it was in February.
"The civilian labor force participation rate, at 62.8 percent, changed little in February and has remained within the narrow range of 62.7 to 62.9 percent since April 2014," the BLS said in its release on the February employment data.
92,898,000 Americans were not in the labor force in February, according to data released from the Bureau of Labor Statistics (BLS) on Friday.