Abortion Day Spas Coming Soon To A Location Near You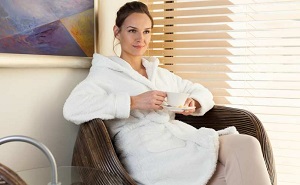 Carafem is a new kind of abortion clinic offering women a "spa-like" experience.
Beginning this week, clients will be welcomed with hot tea and comfy robes in the clinic, which features wood floors, plush upholstery and natural wood tones, so it resembles a high-end salon or spa.
"It was important for us to try to present an upgraded, almost spa-like feel," Melissa Grant, vice president of health services for the clinic, told The Washington Post.
For $400, women will receive counseling and basic tests, then take an initial pill, before returning home with a second set of pills to induce the abortion the next day. The goal is to have them in and out in an hour. Like a typical salon or spa, women can schedule weekend and evening appointments online, or by calling a 24 hour hotline.