Air Force fighter jets again scrambled to enforce no-fly zone around President Trump's Palm Beach home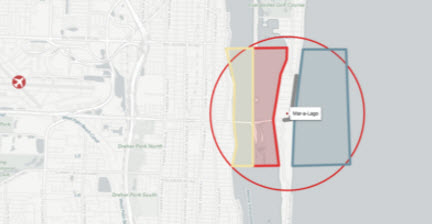 For the second time in less than 48 hours, two U.S. Air Force fighter jets were quickly sent to Palm Beach County on Sunday to intercept an airplane that had entered restricted air space near President Donald Trump's oceanfront estate.
When Trump is at Mar-a-lago in Palm Beach — as he has been for three weekends in a row — the airspace near the resort is off-limits to general aviation.
The F-16s made the intercept about noon Sunday, according to Air Force SMSgt. Chuck Marsh, a spokesman for the North American Aerospace Defense Command (NORAD) and U.S. Northern Command.
The general aviation aircraft was not in communication with air traffic control authorities when it entered the restricted air space, according to Marsh.
Once the F-16s got close to the plane in the southwest section of the restricted area, the Air Force pilots established communication and told the other pilot to leave the area, Marsh said.