Atheist Group Demands Texas School Paint Over Ten Commandments Mural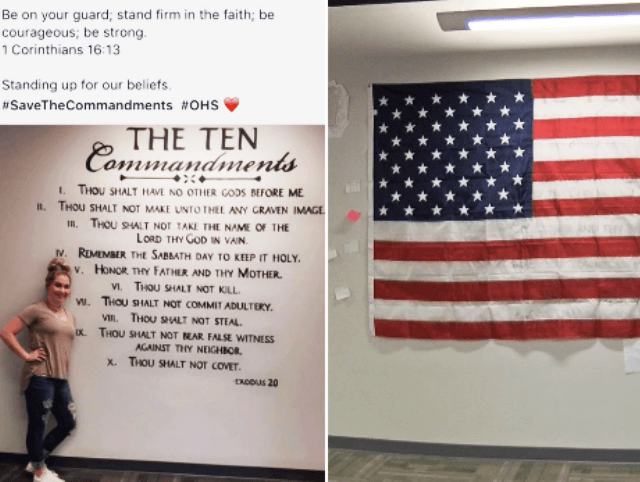 A hallway mural of the Ten Commandments and a painted Bible verse came under fire by Wisconsin atheist group Freedom From Religion Foundation (FFRF), which sent a letter demanding a west Texas school district cover it or risk a lawsuit.
O'Donnell High School painted the Ten Commandments and a line of Old Testament scripture on the wall of a recently-built common area of the building. When students came to school Thursday, both were covered up, the Ten Commandments shrouded beneath the American flag, KCBD reported.
Dr. Cathy Amonett, the school district's superintendent, said she received a letter from the anti-religion group FFRF on September 7. In it, they alleged receipt of an anonymous complaint about the Judeo-Christian display. The group asserted the mural "infringes on its students' constitutionally protected religious freedom" and "the school district violates the Establishment Clause of the First Amendment."
The FFRF lawyer who penned the letter, Sam Grover, wants the school to remove the Ten Commandments. He told KCBD, if they do not, he stated there could be "a potential lawsuit that could cost the school district and taxpayers dearly" because the display violated the "separation of church and state and the right of conscience of each student at the school."
For now, Amonett decided to cover up the Ten Commandments and the Bible verse to avoid a possible lawsuit. She told KCBD: "I made the decision to cover it up until I made a more informed decision about what I should do, because I don't want to harm the district or cause any controversy or anything."