Beer Billionaire Billy Busch Sr. Supports Eric Schmitt – Not His Sister, Trudy Busch Valentine – in the Missouri Senate Race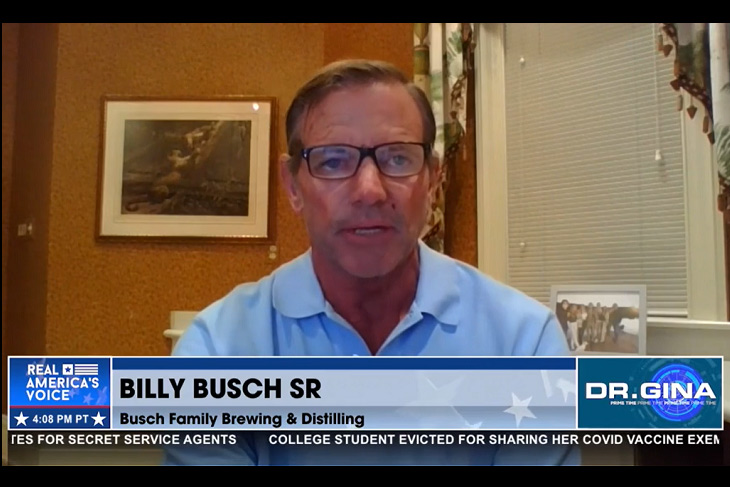 Although it is not uncommon for relatives to support the opposition in electoral races, it is an interesting twist.
The irony of the Missouri Senate race is compounded by the contrast of the candidates' backgrounds. Democrat Trudy Busch Valentine was born with the proverbial "silver spoon" in her mouth as a heiress of Anheuser-Busch's fortune. Eric Schmitt, a Republican, comes from a working class background. His father worked the midnight shift at Busch Valentine's brewery, and Schmitt gave tours and picked up trash at the Busch family estate.
Busch Valentine's older brother, Billy Busch Sr. spoke with Dr. Gina Loudon, on Real America's Voice Monday. He explained why he supports Eric Schmitt over his sister. You can watch the interview here starting at 7:40.
A brief explanation from the Busch Family: Anheuser-Busch, which later became Anheuser-Busch, was established in 1852. Eberhard Anheuser purchased it in 1860. Lilly, his daughter, married Adolphus Busch in 1861. After his father-in law's death in 1880, Adolphus Busch was elected president of the company. Adolphus and Lilly Busch were blessed with 13 children, including August Anheuser Busch. August A. Busch Jr. was the son of Alice Zisemann and August A. Busch Jr. Gussie was instrumental in making the company the largest brewery worldwide. Gussie also owned the St. Louis Cardinals (baseball) from 1953 to his death in 1989. Gussie was married to Gertrude Buholzer, and they had seven children together. Two of the seven are Trudy Busch Valentine (and Billy Busch Sr.). (Sorry for my partial fascination with genealogy — the TLDR set: Trudy, Billy are great-grandchildren Adolphus Busch, founder of A-B.
Now 62 years old, Billy Busch founded William K. Busch Brewing Company. Kraftig Light and Kraftig Light beers are made by the company. In 2019, they ceased operations, but announced a new venture in November 2021. According to St. Louis Magazine
SLM was informed by William K. "Billy" Busch, when Kraftig and Kraftig Light were discontinued in 2019. This business is my family. We are already exploring new avenues. Keep watching."
Two years and one pandemic later the great-grandson Adolphus Busch (co-founder of Anheuser-Busch) is back in beer business.
…
The project is now back in motion and has a new name: Busch Family Brewing & Distilling. Busch says, "We named it that because my entire family is involved. That includes my wife and seven children." It's the fun part.
Busch and his family were featured on an MTV reality series.
MTV aired a 10-episode reality series starring Busch's entire family from March 2020 to May 2020. The Busch Family Brewed featured a series of plotlines that focused on the creation of a brewery and distillery. The groundbreaking was the end of Season 1.
Loudon was a wide-ranging conversation in which Busch admitted that he has a difficult relationship with his sister. They haven't spoken for five to six years. He also explained why he doubts her candidacy.
Dr. Gina Loudon (Billy), this Senate race in Missouri will be a major one. But you're not supporting the candidate some may think you might be. First, can you tell us about your relationship with Eric Schmitt and the Democrat challenger? Then, please, let's talk about why you chose to join this program.
Billy Busch Sr. It's important that I appear on a show such as this with Dr. Gina to voice my support for freedom in the United States. It's under more attack than ever. So I am very concerned about what's happening and the…administration that Biden is running. I also want Eric Schmitt to win the Senate race in Missouri. He's a Republican and I know that if the Senate is won in Missouri by a Democrat like my sister, then her votes will go for the Biden government. That's why we need to win both the House and the Senate.
Loudon: Loudon, it's interesting that Democrats always run as the small guy, the blue collared, working-class man — Joe Biden still tries to claim that he is somehow a middle class, working-class guy. What was Trudy's childhood like? Could you tell me a bit more about her role now, and how it might have been different?
Busch: You know, we grew up very richly, if that is what you want. We had a lot growing up, and we are grateful for everything we have received. Trudy was different. Growing up, I can recall her feeling that…because we were Busches, we were in a very different class. She looked down on the middle and poor and thought they weren't good enough…for a Busch. This happened a few times. One of my sisters-in-laws said that she was not a Busch. She only married into Busches, but she wouldn't be a Busch. That was something I disagreed with. I haven't spoken to my sister in five or six years. It's a bit perplexing for me to see why she is running and why she would be running as a Democrat.
Loudon: Loudon, tell us more. She's promoting her nursing background in her commercials. Is she currently working in nursing? We would like to know more about her experiences in the field she is claiming as her career.
Busch: She did work as an nurse. She graduated from St. Louis University in the early 1980s. I believe she then went to Boston to work at Mass General. I don't think she ever worked as a nurse there. She was a young bride, had six children, and then raised a family. I remember her love for being on the farm and her love for raising her family. You know what else I don't get? She tragically lost her husband.