'BLACK LIVES MATTER' Note Found Near Firebombed Cruiser…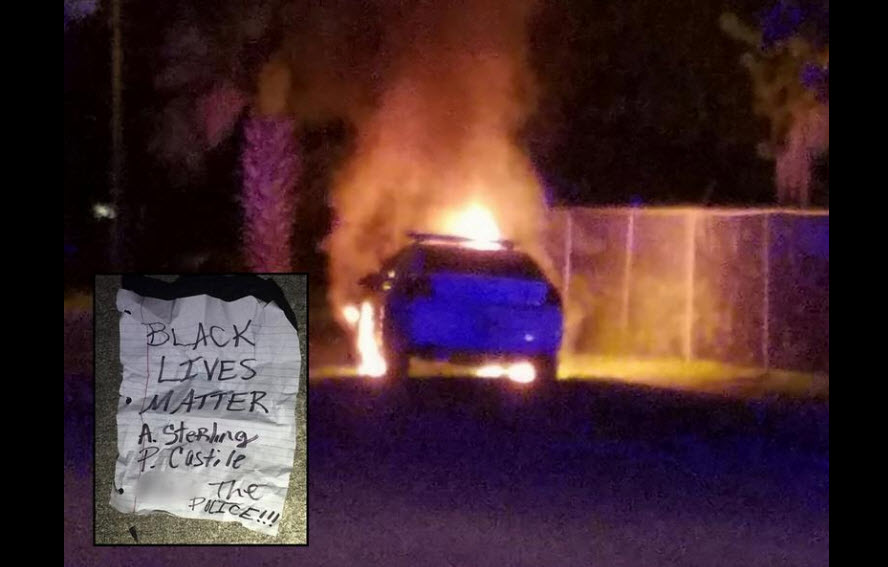 The Daytona Beach Police Department may have been the target of anti-police backlash early Sunday morning when someone firebombed an unoccupied squad car parked in front of a mosque and left a note near the destroyed vehicle attributing the act to Black Lives Matter.
According to Police Chief Mike Chitwood, the incident took place about 2 a.m. That's when someone set fire to the cruiser parked outside the Islamic Center at 347 S. Keech St. The vehicle was engulfed in flames and destroyed.
Chitwood said police found a note at the scene that read "Black Lives Matter A. Sterling P. Castile (Expletive removed) the police."
It was not yet clear exactly what was used to burn the vehicle, but Chitwood said he assumes the culprits used a Molotov cocktail. He said the firebombing caused more than $20,000 in damage to the vehicle.
Imam Belal Alzuhiry Shemman, the Islamic Center's religious leader, could not be reached.