Blacks Only: School Institutes Reverse Jim Crow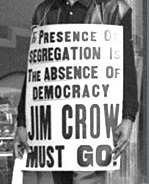 A public school district segregated elementary field trips last week when administrators included only African-Americans on the college introduction tour.
According to ABC 57, South Bend Community Schools Corporation has planned a series of field trips to three local colleges for black third-graders in seven school districts. The excursions began last week with a trip to Ivy Tech Community College.
"I feel like all kids should be going."
Dr. G. David Moss, the director for the African-American student-parent services with the South Bend Community Schools Corporation, told ABC 57 that he wanted the third-grade students to begin to think of themselves attending college.
"I was hired to look at the issues facing African-American kids in the South Bend Community Schools Corporation and my job specifically says that I need to develop programs and develop strategies to help these kids and their families become more successful academically," Moss said.