'Campus Carry' goes into effect as Texas remembers UT Tower shootings 50 years later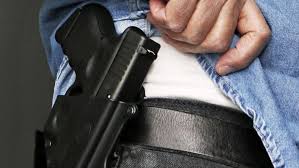 Concealed handgun license holders in Texas can carry their weapons into public university buildings, classrooms and dorms starting Monday, a day that also marks 50 years after the mass shooting at the University of Texas' landmark clock tower.
The campus-carry law pushed by Gov. Greg Abbott and the Republican legislative majority makes Texas one of a handful of states guaranteeing the right to carry concealed handguns on campus.
Texas has allowed concealed handguns in public for 20 years. Gun rights advocates consider it an important protection, given the constitutional right to bear arms, as well as a key self-defense measure in cases of campus violence, such as the 1966 UT shootings and the 2007 shootings at Virginia Tech.
Opponents of the law fear it will chill free speech on campus and lead to more campus suicide. The former dean of the University of Texas School of Architecture left for a position at the University of Pennsylvania because of his opposition to allowing guns on campus.