Challenge stops confederate statue move at Univ. of Texas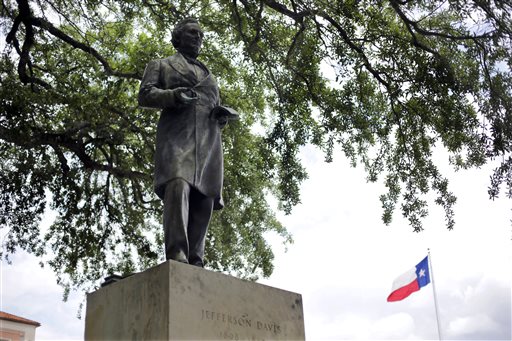 AUSTIN, Texas — The University of Texas on Friday abruptly canceled weekend plans to relocate a statue of Confederate President Jefferson Davis after a legal challenge from the same group that recently lost at the U.S. Supreme Court over rejected Confederate license plates.
The cancellation was announced a day after new University President Greg Fenves said he would uproot the century-old statue away from the center of campus, but leave statues of other Confederate figures untouched.
The Sons of Confederate Veterans, which says it seeks to celebrate Southern heritage, filed for a temporary restraining order Friday but has not yet received a decision from a judge. However, university spokesman Gary Susswein said the school agreed to wait until a court can review the challenge, all the while expressing confidence that the Davis statue will ultimately be relocated to a museum.