Chick-fil-A agrees to stop funding antigay groups, Chicago alderman says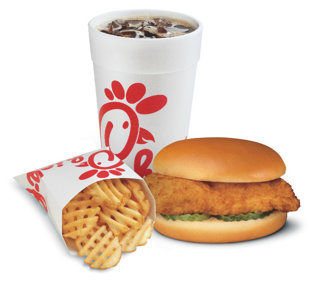 By Dylan Stableford, Yahoo! News
Chick-fil-A, the fast-food chain that sparked a firestorm earlier this year after its president made public comments against same-sex marriage, has agreed to stop funding antigay groups, a Chicago alderman says.
Joe Moreno, the alderman whose opposition of a proposed Chick-fil-A on Chicago's north side helped fuel the controversy, told the Chicago Tribune the company has pledged to include a statement of respect for all sexual orientations in a memo to staffers, and has promised that the WinShape Foundations, its not-for-profit arm, would no longer contribute money to groups that oppose gay marriage. Moreno said he will recommend that Chick-fil-A's construction plans be approved.
"Last week, I met with Chick-fil-A executives for the second time this month," Moreno said in a statement on Wednesday. "These meetings cap 10 months of negotiations with the company over concerns about fair and equal hiring and serving practices within the company. Before now, Chick-fil-A had no formal message as it related to the fair treatment of all citizens in our great democracy. Now, for the first time in the company's history, Chick-fil-A provided an official company document, which clarifies their new policies to ensure equality at Chick-fil-A facilities."
The memo, "Chick-fil-A: Who We Are," will be distributed to all corporate employees and restaurant operators, encouraging them to "treat every person with honor, dignity and respect—regardless of their beliefs, race, creed, sexual orientation or gender," Moreno said.
In a letter to the alderman, the company wrote that WinShape is "taking a much closer look at the organizations it considers helping, and in that process will remain true to its stated philosophy of not supporting organizations with political agendas."
Since 2003, the nonprofit has donated millions of dollars to groups that promote "traditional marriage," including Focus on the Family and the National Organization for Marriage. According to the Civil Rights Agenda, a Chicago-based LGBT advocacy group that worked closely with Moreno, Chick-fil-A executives "clarified that they will no longer give to anti-gay organizations."
A Chick-fil-A spokeswoman declined to comment to Yahoo News but forwarded a statement the company made in July:
"The Chick-fil-A culture and service tradition in our restaurants is to treat every person with honor, dignity and respect —regardless of their belief, race, creed, sexual orientation or gender," the statement reads. "Going forward, our intent is to leave the policy debate over same-sex marriage to the government and political arena."
Earlier this year, Dan Cathy, Chick-fil-A president and chief operating officer, said in a radio interview that "we are inviting God's judgment on our nation when we shake our fist at him and say, 'We know better than you as to what constitutes a marriage.'
To read more, visit: Â http://news.yahoo.com/blogs/lookout/chick-fil-funding-anti-gay-groups-175154249.html