Chiefs' Marcus Peters raises fist during anthem; Arian Foster, other Dolphins kneel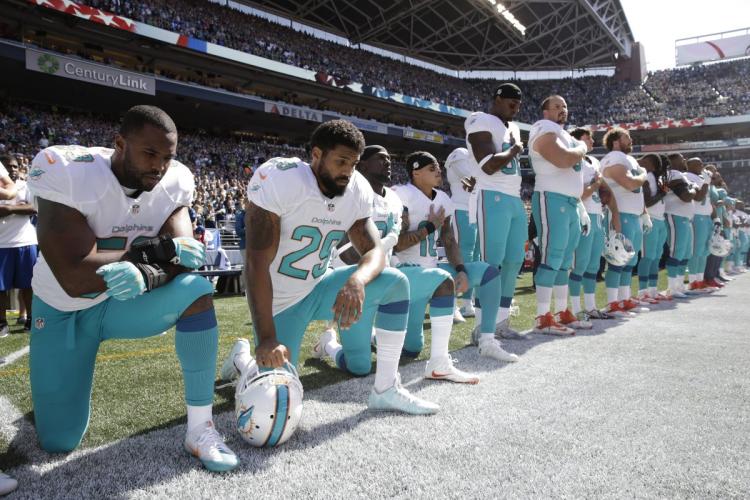 KANSAS CITY, Mo. — Chiefs cornerback Marcus Peters raised his fist throughout the national anthem before Sunday's game against the San Diego Chargers at Arrowhead Stadium, as Kansas City players interlocked their arms.
The Chiefs weren't alone in demonstrating during "The Star-Spangled Banner" on Sunday. The Seattle Seahawks also stood and interlocked arms. Their opponent, the Miami Dolphins, took another approach.
Dolphins running back Arian Foster told ESPN's Bob Holtzman that he planned to take a knee and raise his fist during the national anthem. Foster said Dolphins players met Friday and agreed to make their own decision on how to handle Sunday's anthem.
Foster, along with teammates Kenny Stills, Michael Thomas and Jelani Jenkins, took a knee Sunday, though it appeared Foster did not raise his fist as planned.
"We encourage all members of our organization to stand at attention during the national anthem out of respect and appreciation for the freedoms we are afforded as Americans. We also recognize that it's an individual's right to reflect during the anthem in different ways," the Dolphins said in a statement. "We respect these liberties and appreciate the sacrifices that everyone has made for our country, especially on this day of remembrance.