College Bans Alcohol For Some Fraternities… But Not Black Ones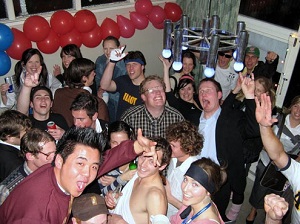 North Carolina State University (NCSU) has responded to a series of fraternity scandals on-campus and nationwide by at least temporary banning alcohol at the parties of all ordinary fraternities. However, the ban doesn't include the handful of historically-black fraternities at the college.
NCSU is the latest in a string of colleges to fall into turmoil over the conduct of fraternity members. At the University of Oklahoma, Sigma Alpha Epsilon was abolished over a racist song sung by freshman members.
At the University of Maryland, an offensive email surfaced. At Penn State, members of Kappa Delta Rho are facing possible criminal charges for a Facebook page that allegedly contained nude photos of unconscious women.
At NCSU, however, the problem is a simple notebook.
Pi Kappa Phi has placed itself on indefinite suspension and is being investigated after restaurant workers found what appears to be the fraternity's pledge book. The book is filled with anonymous handwritten comments, many sexual or racial in nature, such as "Man that tree is so perfect for lynching" or "If she's old enough to pee, she's old enough to me."