Exposed: Hillary Clinton's Secret Spy Ring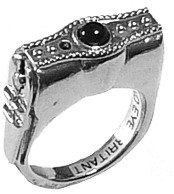 This new report suggests that three men… were involved in her private intelligence gathering efforts. Each of these men has a reputation for being associated with scandal.
We only know about Clinton's spy ring because a hacker who goes by the moniker "Guccifer" hacked the email account of former Clinton aide Sidney Blumenthal and posted his emails online. (Guccifer is now serving a prison sentence in his native Romania.) Guccifer's emails reveal Blumenthal was providing Clinton with detailed intelligence briefings on events in the Middle East and running the ad hoc spy ring.
This arrangement is very curious, considering that the Obama White House made it clear that they didn't want Blumenthal working for the administration after Hillary Clinton previously tried to formally hire him to work at the State Department.
Blumenthal is a controversial figure to put it mildly; Andrew Sullivan called the former New Yorker scribe "the most pro-Clinton writer on the planet." He was the subject of intense scrutiny during the Clinton impeachment hearings. The late Christopher Hitchens submitted an affidavit during the Clinton impeachment hearings alleging that Blumenthal had told him that Monica Lewinsky was a "stalker" …