Feds bulk up for retrial of Clemens over steroids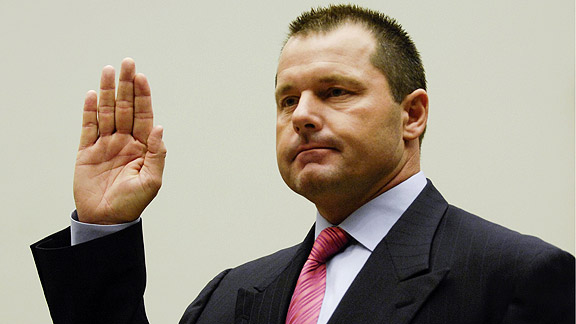 By Frederic J. Frommer-Associated Press
WASHINGTON — On a baseball field, players back up teammates to limit the damage from errors. The Justice Department, embarrassed by an error that caused a mistrial of Roger Clemens last year, has added more prosecutors in hopes of containing any missteps as it seeks to convict the famed pitcher of lying to Congress when he said he never used performance-enhancing drugs.
The prosecution team has more than doubled from two lawyers to five, enough manpower for an infield and pitcher. U.S. District Judge Reggie Walton declared a mistrial last July on only the second day of testimony, after prosecutors showed jurors evidence that had been ruled inadmissible. Walton also will preside over the new trial, which begins selecting a jury on Monday and is expected to last four weeks to six weeks.
"It's no secret that the first ride was a bumpy one for the government trial team," said Ty Cobb, a former federal prosecutor now in private practice, where he specializes in white-collar criminal defense and congressional investigations. "Adding talented lawyers is probably a wise move."
Cobb said he would be surprised if more than two or three prosecutors would be active in the courtroom. He said the government needs to be careful not to devote enormous resources to the case.
Prosecutors know that some potential jurors might object to spending too much money on the case because Walton advised then last year that some of the original jurors thought it was would be a waste of money to retry Clemens.
But Stan Brand, a Washington lawyer who represented Major League Baseball in connection with the 2005 congressional investigation into the sport's steroid policies, said he didn't think that the number of prosecutors would matter to a jury.
"It's not like Clemens will have one lawyer with a yellow pad," he quipped. "This is a big deal. Both sides will bring all the guns they can."
To read more, visit: Â http://www.washingtontimes.com/news/2012/apr/14/feds-bulk-retrial-clemens-over-steroids/