Kansas Republican vows to send 'lesbian Indian' Democrat back 'to the reservation'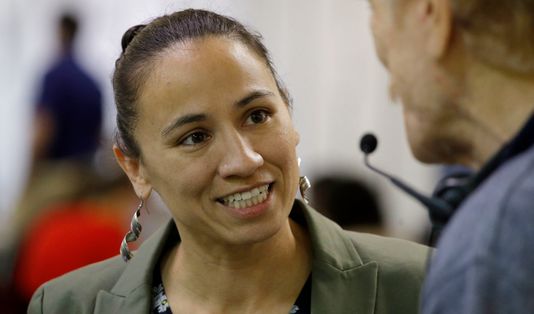 A Kansas Republican official is under fire for a social media post in which he called a Democratic congressional candidate a "radical socialist kick boxing lesbian Indian" and predicted she would "be sent back packing to the reservation," The Kansas City Star reported.
Michael Kalny, a Republican who holds the elected position of precinct committeeman in Kansas, was referring to Sharice Davids, an openly gay Native American lawyer running to unseat Republican Rep. Kevin Yoder. Davids is an amateur mixed martial arts fighter.
Kalny sent the language in a direct Facebook message to Anne Pritchett, president of the Johnson County Democratic Women's north chapter.
"Little Ms. Pritchett – you and your comrades stealth attack on Yoder is going to blow up in your leftist face," Kalny wrote in the Facebook message, according to a screenshot shared by Pritchett. "The REAL REPUBLICANS will remember what the scum DEMONRATS tried to do to Kavanaugh in November. Your radical socialist kick boxing lesbian Indian will be sent back packing to the reservation."