Nasty: Al Sharpton Gets Physical With Reporter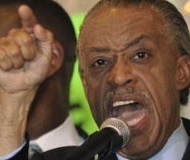 Fox News reporter Leland Vittert got into a heated — and eventually physical — confrontation with activist and MSNBC host Al Sharpton, when the latter tried to keep him from questioning Democratic Baltimore Mayor Stephanie Rawlings-Blake.
"We can't ask questions?" Vittert challenged her. "You are a public official and we can't ask questions?"
"You will have the opportunity," Sharpton said.
"Then you'll answer our questions?" he pressed.
"At the press conference, we will answer all questions," Sharpton said. But as Vittert kept tailing them, a second man stepped between the reporter and the mayor and began pushing him away.