Neighbor Trolls Hillary Clinton With For Sale Sign On 'Clean Hard Drive'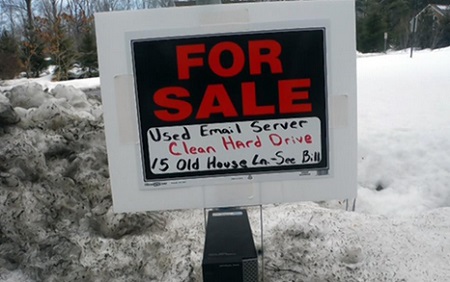 It's not every day you see a hard drive with a for sale sign sitting in a pile of dirty snow, but it's not every day that your neighbor is a former secretary of state and engulfed in a massive email controversy.
And one of Hillary Clinton's Chappaqua neighbors is letting everyone know how much of a joke he thinks Clinton's excuse for using personal email is by staging his own stunt.
The sign, spotted by the New York Daily News, was put up by Gary Murphy and states "Used Email Server, Clean Hard Drive, 15 Old House Ln. — See Bill."
The server Clinton used for her private email has been traced back to her Chappaqua home.
Murphy, who says he wasn't satisfied with Clinton's answers at her Tuesday news conference, admits he's a Republican but says the sign has nothing to do with his party affiliation.