New Jersey man's Obama flag reportedly riles neighbors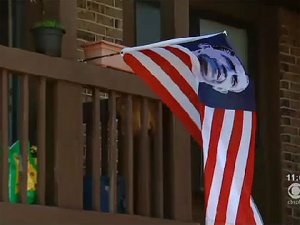 By Pat Loeb, CBS 3 Philly
LUMBERTON, N.J. (CBS) — A South Jersey man has come up with what he hopes is a solution to a controversy over the American flag that he flew in his yard — a flag bearing the image of President Barack Obama in place of the field of stars.
Wes Kennedy, of the Acacia housing development in Lumberton, says he had no idea some of his neighbors had a problem with his flag until reporters started calling and telling him (see related video).
"If someone had come to me in the beginning, I would have said, 'Let's sit down and talk to see what we might reasonably come up with as a solution.'"
Once he became aware of their objections, Kennedy worked out his own solution.
To read more, visit: Â http://philadelphia.cbslocal.com/2012/04/12/south-jersey-man-gives-up-his-obama-flag-but-not-his-opinions/