New NJ governor: 'We will resist every move from President Trump'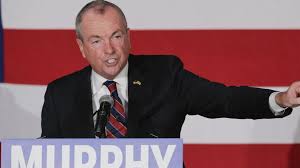 Phil Murphy, the newly sworn-in Democratic New Jersey governor, said in an address Tuesday that his administration will "resist every move from President Trump."
"We will resist every move from President Trump and a misguided congressional leadership," Murphy said to applause, going on to attack key items in the president's agenda.
Murphy said his administration will "resist any moves that worsen income inequality" or "provide a tax windfall to giant corporations and billionaires at the expense of our working and middle-class families," taking aim at the Republican-backed tax plan that passed into law in December.
The Garden State governor also targeted the Trump administration's proposal to open up permits for offshore oil and natural gas drilling that the governors of nearly every Atlantic and Pacific state have opposed.
"We will resist the dangerous and wrong attempt to allow drilling for oil off our precious shore," Murphy said, vowing to "not back down in our fight to protect the Jersey Shore from President Trump and the special industry special interests."