Not so fast: California Republican says hiring Holder to fight Trump violates state constitution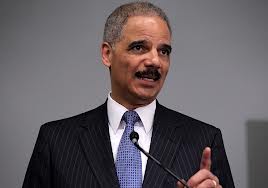 A California GOP lawmaker is challenging the hiring of former U.S. Attorney Eric Holder to fight the Trump administration, saying it may violate the California Constitution.
Assemblyman Kevin Kiley has asked the California Attorney General's office to investigate whether legislative Democrats ran afoul of the law by retaining Mr. Holder and his law firm, Covington & Burling, for $25,000 per month to do a job that can be performed by state employees.
Mr. Holder was hired last week by the California legislature, which is controlled by Democrats, as outside counsel to provide advice on "our efforts to resist any attempts to roll back the progress California has made" on issues such as climate change to immigration.
But Mr. Kiley cited a court ruling that said the state Constitution forbids hiring outside consultants for roles that can be carried out "adequately and competently' by those in the civil service, including work "defending California against federal actions."
"In light of these facts, I respectfully ask your legal opinion as to whether the 1,592 attorneys and legal staff at the State Attorney General's Office can perform 'adequately and competently' the legal services for which Covington & Burling has been retained by the Legislature," said the Republican Kiley in his letter.