Protesters burn American flag at Trump Tower: 'It is a symbol of slavery, of genocide!'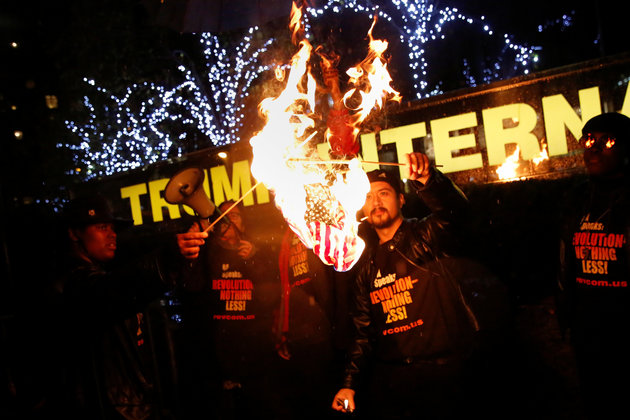 Protesters converged on Trump International Hotel Tuesday night to burn American flags in response the president-elect's weekend tweets.
Members of the Community Party of the United States, StopPatriarchy.org and other left-wing groups arrived in the Big Apple last night to chant anti-American slogans and ignite the flag outside Donald Trump's 5-star hotel on Tuesday. The protesters were reacting to a Nov. 29 tweet by the Republican that said flag burning should perhaps result in a "loss of citizenship or a year in jail."
"The American flag deserves to be burned. It is a symbol of slavery, of genocide, of oppression," a protester said into a bullhorn during the event. "We burn this flag on behalf of the 7 billion people on this planet!"
Activist Sunsara Taylor uploaded video of the flag burning to her official Twitter account along with a list of "10 Reasons the U.S. flag deserves to BURN."
The protester's rationale for burning the flag includes an alleged "epidemic of unpunished murder by police," a culture of "porn and patriarchy," and the decision to end World War II by using nuclear warheads.