Radical Homosexual Activists Disrupt Marriage Rally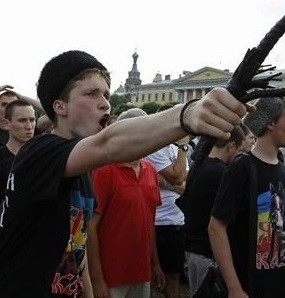 A leader of the Coalition of African-American Pastors (CAAP) who spoke at the March for Marriage in Russellville, Arkansas Saturday was interrupted in her address when LGBT activists with protest signs and rainbow flags ran up on the stage with her, attempting to disrupt the event.
Dr. Deborah De Sousa Owens, who along with her husband Rev. William Owens leads CAAP, was the scheduled speaker at this smaller March for Marriage in support of traditional marriage sponsored by the Russellville Tea Party.
Owens, a licensed Church of God in Christ (COGIC) evangelist and missionary, told Breitbart News between 60-70 counter-protesters appeared at the event and at least three LGBT activists ran up onto the stage with her as she was speaking, attempting to disrupt her address by shouting out questions to her, trying to intimidate her.
"I asked the police to remove him," Owens said, "but they didn't and I continued speaking, ignoring the interruptions."