Sen. Susan Collins: I'll wait until seeing final tax bill before deciding on vote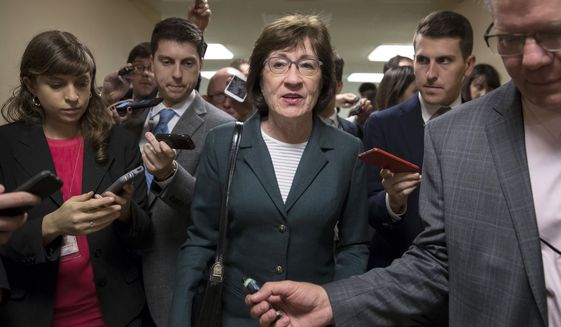 Sen. Susan Collins said Sunday she plans to wait until the final conference report on the tax bill is released before she makes a decision on how she'll vote, after having voted for the Senate's $1.4 trillion tax-cut plan this month.
"There are major differences between the House and Senate bills, and I don't know where the bill is going to come out," the Maine Republican said on CBS' "Face the Nation."
Ms. Collins has said her support is likely contingent on an agreement that the legislation wouldn't trigger automatic cuts to Medicare, as well as on pledges to vote on other measures to fund Obamacare cost-sharing subsidies and deal with high-risk insurance pools for people with pre-existing conditions.
She said she's gotten commitments from House Speaker Paul D. Ryan and Senate Majority Leader Mitch McConnell that the Medicare cuts would not go into effect.