Senate candidate Brannon wants to be Rand Paul of NC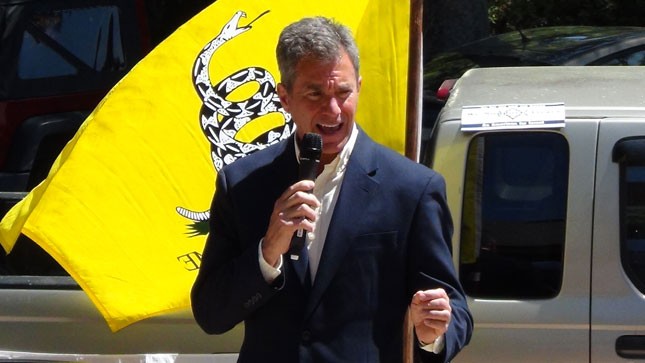 North Carolina Senate candidate Greg Brannon (R) is hoping to follow in the steps of Sen. Rand Paul (R-Ky.) — and wants to make sure everyone knows.
Brannon, who's challenging North Carolina House Speaker Thom Tillis (R) and others for the GOP nomination to face Sen. Kay Hagan (D-N.C.), was in Washington last Friday for an afternoon fundraiser with Paul at the Conservative Political Action Conference. The libertarian-leaning hopeful repeatedly touted Paul's backing and detailed why he's the heir to the senator's libertarian mantle.
Establishment Republicans have rallied around Tillis in the race, trying to help him avoid a runoff election against Brannon so he can preserve campaign funds to attack Hagan. The North Carolina Democrat is highly vulnerable, according to polls, but some Republicans are worried that if Tillis doesn't win, another candidate could cost them the seat.
The fast-talking Brannon was at the three-day conservative confab with his wife and campaign manager wearing a "Stand with Rand" sticker. Talking to The Hill, he repeatedly slammed the federal government and called for phasing out a number of major government programs and laws. He said he'd prepped for years to run for office by reading the Constitution, not by talking with political consultants.
"I'm a surgeon. I want to be prepared before I do things. The last seven years I've read every convention note from 1787-1789," said Brannon. "Our Founders did not go to war, pledge their life, their fortune, and their honor so the federal government could tell you about ObamaCare, Common Core, light bulbs, water in your toilets. We must understand what freedom and liberty is about."
Polls show Hagan could be in trouble. But the primary election remains muddled — recent polling has found Tillis ahead in the race, but he's hovered around 20 percent, with Brannon and three other candidates in the high single or low double digits. If no candidate reaches 40 percent of the vote in the May 6 contest, that spurs a July runoff.
Brannon disputed the notion that only Tillis could win the race, touting his support from Paul and FreedomWorks as well as last week's endorsement from Sen. Mike Lee (R-Utah), while pointing to Karl Rove's fundraising on Tillis's behalf.
"The rock stars of our party are Sen. Lee, Sen. [Ted] Cruz [R-Texas], Sen. Paul. … Moderates lose in larger elections," he said. "The Karl Rove establishment machine versus the Lee, the Paul, the Cruz-type candidate, that's our debate and our battle of who we are. Are we the party of Reagan, of Coolidge, of Goldwater, of Taft, or are we the party of progressive lite?" he said.