Yemen On Verge Of Total Collapse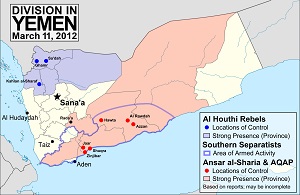 Regional rivals Saudi Arabia and Iran traded accusations Tuesday over the escalating conflict in Yemen, which the UN rights chief warned was on the brink of "total collapse".
Aid groups warned of a humanitarian crisis unfolding with air and sea blockades making it impossible to send desperately needed assistance as casualties mount.
Explosions lit up the skies over the Yemeni capital overnight in the heaviest bombing raids yet of a six-day air war led by Riyadh against Shiite rebels.
The Huthi rebels and their ally, former president Ali Abdullah Saleh, "decided with the support of Iran to destabilise Yemen," Saudi Foreign Minister Prince Saud al-Faisal said.