'Cage Match' Over Swipe Fees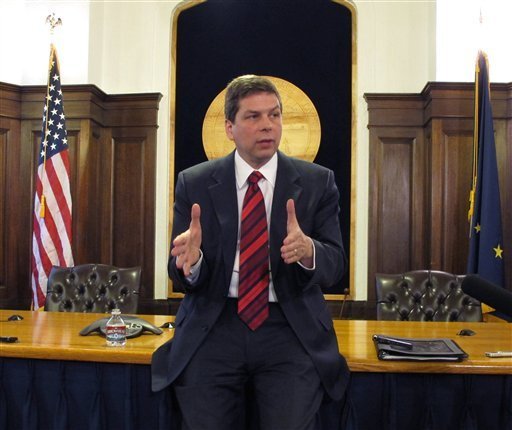 By Janie Lorber and Steven T. Dennis, Roll Call
Rarely do Senate votes get decided in what participants describe as a "cage match."
But that's exactly what appeared to happen Wednesday morning in the office of Sen. Mark Begich, where top lobbyists from the retail and bank industries faced off in a last-minute bid to convince the Alaska Democrat that he should side with them on a proposal to delay new limits on fees for debit card transactions.
"This is kind of his style," a Senate aide said about Begich hearing from both sides at the same time.
But the aide cautioned, "It's never just what lobbyists think," noting that the Senator had also just spent a week at home hearing from Alaskans and that an Alaskan representing credit unions was on the phone during the meeting.
The banks won in Begich's office, but they lost the day. More than a year of lobbying, ferocious whipping and Democratic infighting all boiled down to a tense vote on the Senate floor Wednesday afternoon that cost banks billions of dollars.
The Senate voted 54-45 for a bill, sponsored by Sen. Jon Tester (D-Mont.), that would have delayed for a year new limits on the swipe fees that banks charge retailers for processing debit cards. Though he won a majority, Tester needed 60 votes to prevail.
It was an awkward test of loyalties, forcing Democrats to choose between Senate Majority Whip Dick Durbin (D-Ill.), who authored the law as part of the financial regulatory overhaul passed last year, and Tester, who was supported, albeit in a low-key way, by the No. 3 Senate Democrat, Charles Schumer (N.Y.).
Beyond that, Senators also had to choose between two of their most powerful constituencies: big retailers and big banks.
Durbin led the charge against Tester's amendment, saying it would amount to another bailout for banks, who count interchange fees among some of their most profitable business lines. Durbin has estimated the vote would have handed the banks $1 billion a month. Tester countered that small banks would suffer, despite the fact that institutions with $10 billion or less would be exempt from any new regulations.
Leading up to the Senate's vote Wednesday, a parade of lobbyists cycled through the offices of key undecided Senators, includingSusan Collins (R-Maine), Roger Wicker (R-Miss.), Jim Webb (D-Va.), Joe Manchin (D-W.Va.), Ron Johnson (R-Wis.), Scott Brown(R-Mass.) and others.
"It was an absolute onslaught," said Katherine Lugar, a lobbyist for the Retail Industry Leaders Association. "Everyone was up there trying to get their final word in."
On Tuesday and Wednesday, her group sent at least 35 lobbyists to Capitol Hill to defend the new limits.
The furious, all-hands-on-deck lobbying effort went right to the final gavel, aides said, with CEOs from the card networks and retailers calling Senators up until the end.
But with just minutes remaining before the vote, several Senators remained undecided.
A reporter overheard an aide in Webb's office saying the majority of constituent callers were opposed to the amendment. Still, when it was time to vote, Webb ended up supporting Tester, but he gave Durbin a sympathetic pat on the back when he exited the chamber.
To read more, visit:Â http://www.rollcall.com/issues/56_136/-206306-1.html?pos=hftxt