7 candidates in June 13 New Hampshire debate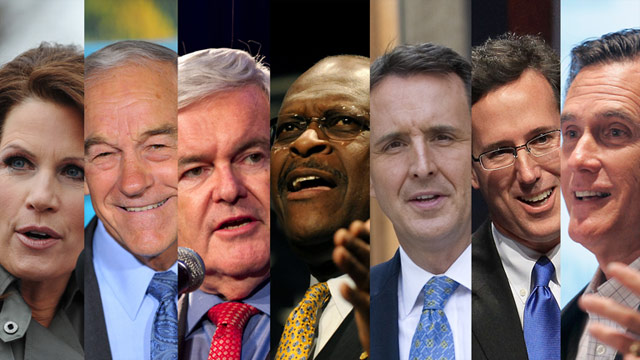 By Mark Preston, CNN
Washington (CNN) — After months of criss-crossing the country and trying to woo potential supporters in early voting states, seven Republicans hoping to capture their party's presidential nomination will meet this month for the first New Hampshire debate of the 2012 election.
Minnesota Rep. Michele Bachmann, businessman Herman Cain, former House Speaker Newt Gingrich, Texas Rep. Ron Paul, former Minnesota Gov. Tim Pawlenty, former Massachusetts Gov. Mitt Romney and former Pennsylvania Sen. Rick Santorum will participate in the June 13 debate on the campus of Saint Anselm College.
This is the first time that Bachmann, Gingrich and Romney will appear in a 2012 presidential debate. The event is being sponsored by CNN, WMUR and the New Hampshire Union Leader. CNN Chief National Correspondent/Anchor John King will moderate the debate with journalists from WMUR and the Union Leader participating in the questioning.
The debate takes place eight months before the New Hampshire primary, a critical contest on the road to the Republican presidential nomination. The debate will air live from 8 p.m. to 10 p.m. ET in New Hampshire and across the country.
To read more, visit: Â http://www.cnn.com/2011/POLITICS/06/03/debate.lineup/index.html?hpt=po_bn1