Ann Romney adds personal touch to Mitt's campaign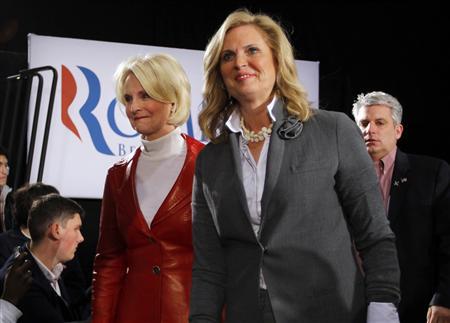 By Steve Holland
(Reuters) – Ann Romney gets it.
She is aware that her husband, Republican presidential front-runner Mitt Romney, has an image problem. Critics say he often seems stiff and reserved on the campaign trail, and has difficulty connecting with voters.
That isn't a problem for Ann Romney.
She is warm, composed, approachable and careful with her words. The mother of five and grandmother of 16 also has become the behind-the-scenes glue in Mitt Romney's well-organized campaign — a trusted adviser who keeps a close eye on the news coverage about him and casts him as a personable family man.
And as a worldwide television audience saw Tuesday night when she introduced Mitt Romney at a celebration of his victory in Michigan's Republican primary, Ann Romney knows how to work a room.
After thanking a long list of supporters, the Michigan native gave a brief but passionate speech in which she recalled meeting unemployed residents of the state during the campaign.
"What we have seen out there has broken my heart," she said. "I love Michigan. I love Michigan. I grew up drinking Vernors (a ginger soda made in Michigan) and listening to (Detroit) Tigers baseball. And what we saw when we went across Michigan were families that were hurting, people out of jobs. … They're so concerned about their children … because of the debt that we're going to give to our children.
"And, we have had it. Washington, here we come. We are going to take back America, and we're going to let this guy do it," she said, pointing to her husband.
At a time when Mitt Romney is leading the Republican pack but still struggling to energize many party voters, his wife's comments seemed particularly poignant.
To read more, visit:Â http://www.reuters.com/article/2012/03/02/us-usa-campaign-romney-ann-idUSTRE82100320120302