Anti-abortion movement rallies against Biden pick to lead HHS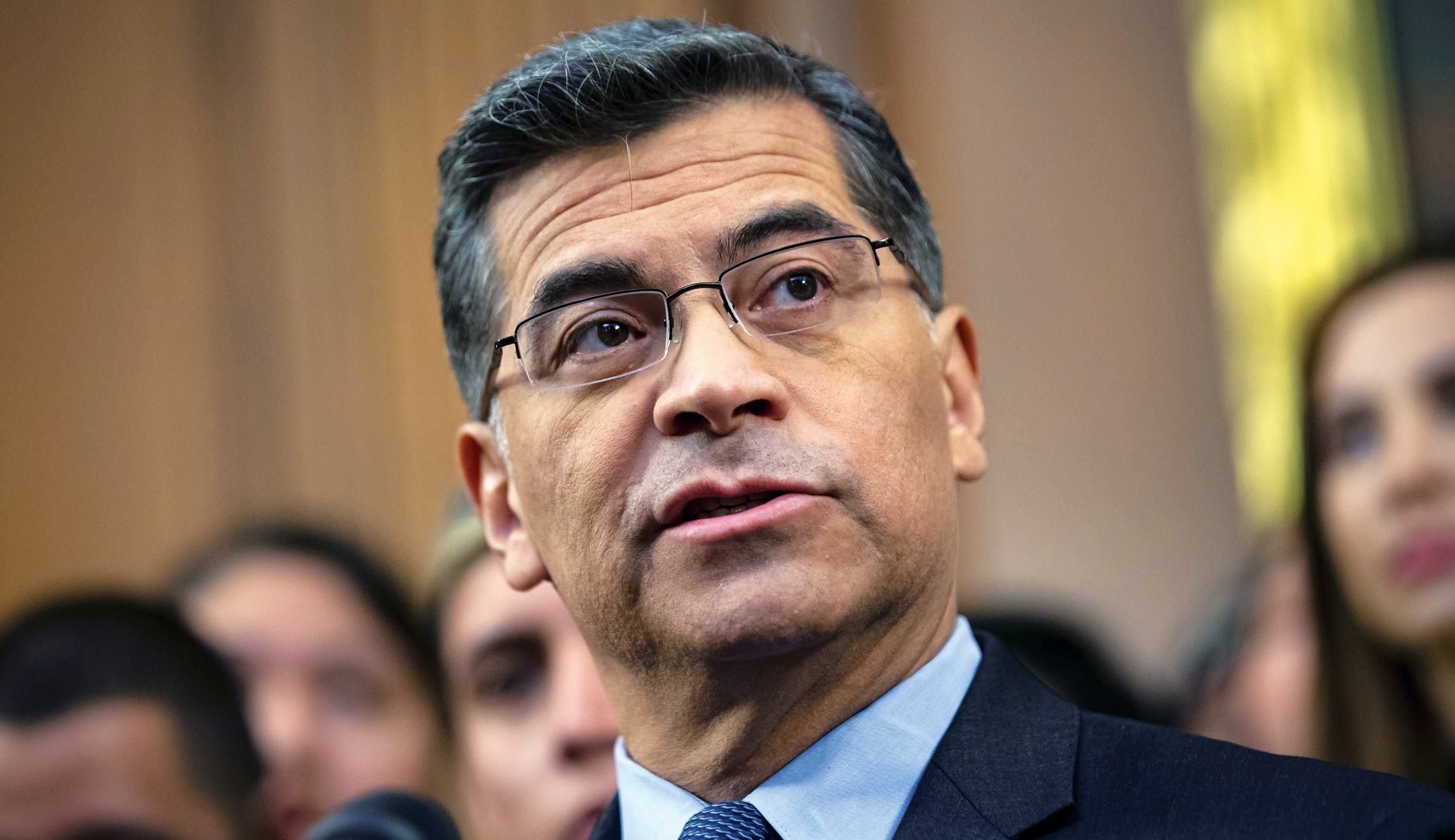 Anti-abortion advocates are rallying against President Biden's nominee to lead the Department of Health and Human Services, California Attorney General Xavier Becerra.
"Becerra has been on the radar of the pro-life movement for a long time because he's been such a pro-abortion advocate, not just a rank-and-file pro-abortion member of the Democratic Party, but someone who is a real advocate and activist," said Mallory Quigley, vice president of communications for the conservative anti-abortion group Susan B. Anthony List.
Becerra, who has been California's attorney general since 2017, was nominated to lead the massive health agency that includes departments such as the Centers for Disease Control and Prevention and the Food and Drug Administration. Later this month, he will face questioning from the Senate Health, Education, Labor, and Pensions Committee and the Senate Finance Committee.
During his tenure, Becerra has led legal challenges against the Trump administration's efforts to protect religious organizations that object to providing mandatory contraception coverage under Obamacare. In 2017, former President Donald Trump issued an executive order that would exempt faith-based ministries, such as the Little Sisters of the Poor, a Catholic order of nuns who provide care to elderly poor people, from the mandatory contraception coverage for their employees. Becerra then filed suit against the federal government to rescind the exemption for the Little Sisters, which he argued was unlawful under Obamacare.
After years of litigation of the issue, the Supreme Court ruled 7-2 in July 2020 to reverse a 3rd U.S. Circuit Court of Appeals decision, holding that the Trump administration had the legal authority to exempt certain employers from the contraception mandate.
"More important to me is his apparent lack of experience as an administrator," Quigley told the Washington Examiner. "It appears to me that the most experience he has with healthcare is suing Catholic nuns and suing pro-life pregnancy centers."
Becerra was also on the receiving end of a 2018 Supreme Court suit brought by the National Institute of Family and Life Advocates, a crisis pregnancy center that argued that California's FACT Act was unconstitutional because it required the Christian nonprofit organization to notify pregnant patients of the option to undergo an abortion at state-sponsored clinics. The court ruled in 2018 in a 5–4 decision in favor of the pregnancy center, maintaining that requiring the notices of abortion access violated the First Amendment. The Supreme Court ruling overturned an earlier decision by the 9th U.S. Circuit Court of Appeals.
In another 2017 case, Becerra filed felony charges against anti-abortion activists David Daleiden and Sandra Merritt of the Center for Medical Progress for secretly recording conversations with abortion providers while posing as potential buyers of fetal tissue from a sham biotechnology company. The Superior Court of San Francisco rejected calls from the defense to dismiss the case in 2019. At their arraignment the following year, Daleiden and Merritt pleaded not guilty to nine felony counts involving eavesdropping and invasion of privacy.
Tom McClusky, March for Life Action's vice president of governmental affairs, told the Washington Examiner that Becerra "has the most solid record" of supporting widespread access to abortion and contraception.
"Because he was a member of Congress and … when you're in Congress being pro-life or pro-abortion, your party wants you to vote the right way," McClusky said. "He went above and beyond when he was attorney general."
Republican senators such as Tom Cotton of Arkansas, John Cornyn of Texas, and Bill Cassidy of Louisiana have objected to Biden's pick. Cotton, who does not sit on either committee, vowed to reject Becerra's nomination when it gets to the Senate floor. Sen. Rand Paul, a staunch anti-abortion advocate and ranking member on the health committee, said in December that Becerra believes "in complete, unlimited abortion to the time of birth and after … a very radical position."
Anti-abortion groups such as Susan B. Anthony List and March for Life Action have begun to lobby members of Congress to oppose Becerra's nomination. McClusky said the groups had banded together in talking to "both the committee staff as well as members of staff, the ones that will be prepping the questions for this hearing."
"We'll be very vocal and active during the hearings expected next week to counter the narrative from Democratic senators and the Biden administration that he's a good fit for the job," Quigley added. "That couldn't be further from the truth."