Appeals court denies request to immediately reinstate Trump's travel ban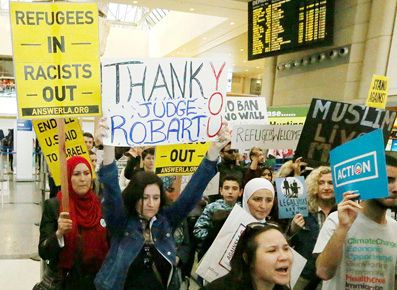 Early Sunday morning a federal appeals court denied the Justice Department's request for an immediate reinstatement of President Donald Trump's ban on accepting certain travelers and refugees.
The DOJ filed an appeal of a judge's order temporarily stopping Trump's travel ban on Saturday night, saying it's the "sovereign prerogative" of a president to admit or exclude aliens.
The 9th U.S. Circuit Court of Appeals in San Francisco instead asked for the Justice Department to file a counter-response by Monday afternoon.
The higher court's denial of an immediate stay means the legal battles will continue for days at least.
The appeal stated that the district court's ruling "conflicts with the basic principle that an alien seeking initial admission to the United States requests a privilege and has no constitutional rights regarding his application."