AZ shooting targets US congresswoman, kills 6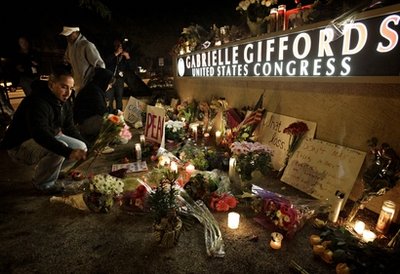 By AMANDA LEE MYERS and DAVID ESPO, Associated Press, Yahoo News
TUCSON, Ariz. – A gunman targeted Rep. Gabrielle Giffords as she met with constituents outside a busy supermarket Saturday, wounding the Democrat and killing Arizona's chief federal judge and five others in an attack that left Americans questioning whether divisive politics had pushed the suspect over the edge.
The assassination attempt left the three-term congresswoman in critical condition after a bullet passed through her head. A shaken President Barack Obama called the attack "a tragedy for our entire country."
Giffords, 40, is a moderate Democrat who narrowly won re-election in November against a tea party candidate who sought to throw her from office over her support of the health care law. Anger over her position became violent at times, with her Tucson office vandalized after the House passed the overhaul last March and someone showing up at a recent gathering with a weapon.
Police say the shooter was in custody, and was identified by people familiar with the investigation as Jared Loughner, 22. U.S. officials who provided his name to the AP spoke on condition of anonymity because they were not authorized to release it publicly.
His motivation was not immediately known, but Pima County Sheriff Clarence Dupnik described him as mentally unstable and possibly acting with an accomplice.
To read more, visit: AZ shooting targets US congresswoman, kills 6