Bachmann courts tea partyers in Iowa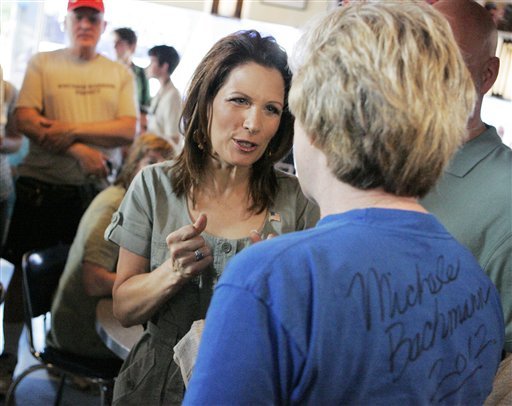 By Thomas Beaumont-Associated Press, The Washington Times
MARSHALLTOWN, Iowa — Rep. MicheleBachmann, Minnesota Republican, spent Saturday shaking hands in Iowa diners and strolling through a bustling farmers market as she tried to capitalize on her early popularity in the state that kicks off the presidential campaign season.
An Iowa native, the tea party favorite ranked nearly even with the GOP front-runner, former Massachusetts Gov. Mitt Romney, in a recent poll of Republicans likely to participate in the state's lead off caucuses next year. But just six weeks before the state's closely-watched straw poll, Mrs. Bachmann has done little to campaign or set up an organization here.
Beginning her first sustained campaign trip to Iowa as an announced candidate, Mrs. Bachmann introduced herself to audiences from Iowa City to Des Moines in a new campaign bus emblazoned with her name. She spent much of Saturday posing for pictures and signing autographs rather than in meetings with key GOP activists.
"I have every confidence our team is going to deliver," Mrs. Bachmann told the Associated Press after meeting about 100 supporters and politically curious Iowans at a stop in Marshalltown. "I am going to be here in Iowa campaigning all through July."
To read more, visit: Â http://www.washingtontimes.com/news/2011/jul/2/bachmann-courts-tea-partiers-iowa/