Biden acknowledges he, Obama want to raise $1 trillion in taxes on top earners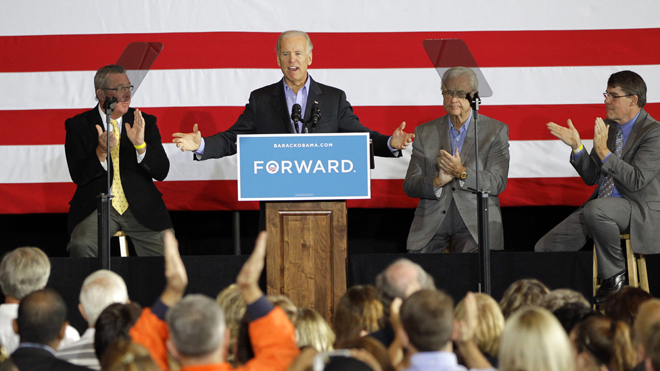 FoxNews
COUNCIL BLUFFS, Iowa –  For everyone who claims the Obama administration wants a $1 trillion tax hike, Joe Biden has a message: Yes, we do.
The vice president was referring Thursday to the Democrats' pledge to let the Bush-era tax rates for households making $250,000 and up expire at the end of the year, while maintaining current rates for other Americans. Republicans have called for maintaining the current rates for all Americans.
The call for a tax hike on top earners was hardly new, but Biden's characteristic bluntness gave Republicans fresh fodder to criticize the Democratic ticket just days after the vice president said the middle class has been buried during the past four years.
"On top of the trillions of dollars in spending that we have already cut, we're going to ask the wealthy to pay more. My heart breaks. Come on man," Biden said, during a stop in the battleground state of Iowa.
Biden said Romney and other Republicans often say "'Obama and Biden want to raise taxes by a trillion dollars.' Guess what? Yes, we do in one regard: We want to let that trillion dollar tax cut expire so the middle class doesn't have to bear the burden of all that money going to the super-wealthy. That's not a tax raise. That's called fairness where I come from."
Mitt Romney's running mate pounced on the quote at a campaign stop Thursday night in Virginia.
"What we don't need is a trillion-dollar tax increase," Ryan said. "What we don't need is a tax increase on our successful job creators that will cost us 700,000 jobs in just two years."
Ryan Williams, a spokesman for Romney, said Biden's comment revealed an uncomfortable truth for Democrats.
"Fresh off admitting that America's middle class has been `buried' over the last four years, Vice President Biden went a step further today and fully embraced the president's job-killing tax increases. The choice facing Americans in this election gets clearer every day," Williams said.
Just Tuesday, Biden said that middle class has been "buried" during the past four years, a statement that Republicans immediately seized upon as an unwitting indictment of the Obama administration. It is all part of a pattern in which Republicans have characterized the former U.S. senator as a gaffe-prone liability for Obama on the campaign trail, trying to undermine his role as a vocal, effective surrogate.
But Biden is taking aim of his own, saying that Republican presidential nominee Mitt Romney renounced his own tax cut during Wednesday's presidential debate.
At a campaign stop in Iowa, where early voting has already begun, Biden said Romney and running mate Paul Ryan have proposed a $5 trillion tax cut that is the "centerpiece" of their campaign.
During the debate, Romney denied he plans to cut taxes, saying an across-the-board cut in tax rates will be offset by the elimination of unspecified deductions and exemptions.
To read more, visit:Â http://www.foxnews.com/politics/2012/10/04/biden-acknowledges-obama-want-to-raise-1t-in-taxes-on-wealthy/#ixzz28QFm2WAg