Bill Comes To Hillary's Rescue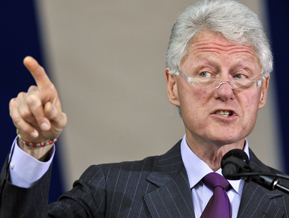 Bill Clinton defended foreign donations his foundation has accepted over the years.
Speaking from the Clinton Global Initiative University in Miami, Fla., the former president defended his foundation's acceptance of donations from foreign governments — including while his wife, Hillary Clinton, was secretary of state.
"My theory about all of this is disclose everything and then let people make their judgments," Clinton told Comedy Central's Larry Wilmore, according to the Associated Press. "I believe we have done a lot more good than harm and I believe this is a good thing."
The foundation, Clinton noted, has received donations from more than 300,000 people since its inception — including foreign governments in the Middle East and elsewhere.