Bobby Jindal: Obama "most liberal, most incompetent" president since Carter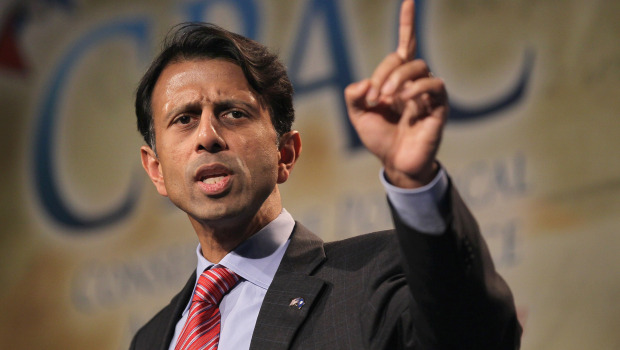 (CBS News) ROSEMONT, Ill. – Louisiana Gov. Bobby Jindal, whose star as a potential running mate for Mitt Romney has been rising in recent weeks, delivered a scathing critique of President Obama at the Chicago Conservative Political Action Conference here Friday, saying the private sector is like a foreign country to Obama.
"I suspect that many in the Obama administration really don't believe in private enterprise. At best they see business as something to be endured so that that it can provide tax money for government programs," said Jindal.
Responding to Obama's statement that the private sector was doing fine, he added: "Mr. President, I've got a message for you: The private sector is not doing well when 23 million Americans are unemployed and underemployed in this great country. This president, the private sector is so foreign to him he might need a passport to actually go visit and he might need a translator to help him talk to folks in the private sector."
Jindal, who has not yet campaigned with Romney, grabbed his chance Friday to try on the attack-dog role traditionally given to running mates. He called Obama "themost liberal, most incompetent president in the White House since Jimmy Carter," and accused him of staying out of the Wisconsin recall election this week out of cowardice.
"Did he not go to Wisconsin because he was afraid of hurting himself by backing a loser?" Jindal wondered. "He shrunk from this challenge. He elected to stay away from Wisconsin for fear of losing. That's not what leaders do."
Neither Obama nor Romney went to Wisconsin to campaign in this week's bitter recall election pitting GOP Gov. Scott Walker against Milwaukee Mayor Tom Barrett. Asked about Romney's absence, Jindal replied, "Obviously Mitt had his own nomination campaign to run but he was very clear that he stood with Scott, very clear that Scott needed to be reelected, that what Scott was doing was good for the state of Wisconsin."
Jindal gave a boilerplate expression of disinterest when asked about his name coming up as a possible vice president. "I've got the job that I want," he told reporters after his speech. "I'm not going to speculate on what Gov. Romney is going to do, I'm not going to comment on his process the same way four years ago I didn't comment on any of the speculation back then. All I'm going to say is that I look forward to supporting whoever Gov. Romney selects to be on his ticket."