Boehner feeling heat from tea party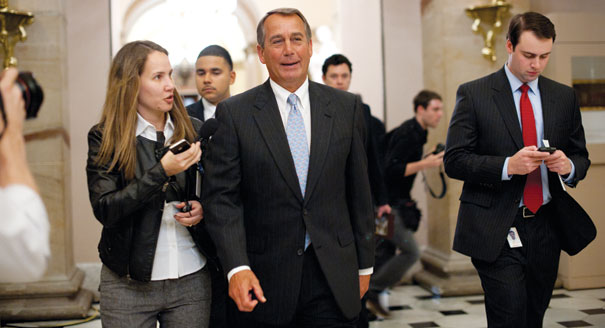 By David Eldridge-The Washington Times
House Speaker John A. Boehner and the GOP's uneasy partnership with the tea party seems to be fraying at the edges.
Three days after the founder of one of the largest tea party groups called the Ohio Republican a "fool," the head of the congressional Tea Party Caucus declined to defend her House colleague.
Michele Bachmann, appearing on NBC's "Meet the Press," said the "tea party coalition is hanging together more strongly than ever," but she ducked questions about Mr. Boehner's problems with the tea party.
The Minnesota Republican didn't even use the speaker's name, sticking instead to her talking points about $105 billion that she contends was misappropriated by Democrats in the Obama health care law.
Pressed by host David Gregory, the potential 2012 GOP presidential contender offered a lukewarm defense of Republican efforts, led by the speaker, to cut the federal deficit.
"What we are trying to do as Republicans in the House is look for every place we possibly can to cut spending. We have done our part to look for cuts," she said, citing the GOP plan for cutting more than $60 billion during the rest of the current fiscal year from current spending levels. But, she said, "We can't stop there."
She added that she disagrees with Mr. Boehner on raising the debt ceiling.
"We are just giving Congress a license to keep on spending," she said.
But while Mrs. Bachmann was mum on Mr. Boehner on Sunday, other tea party leaders took shots in the past week.
To read more, visit: http://www.washingtontimes.com/news/2011/mar/6/boehner-feeling-heat-from-tea-party/